Here's a fun game for a Monday afternoon.
See how far off the political map this survey takes you.
My Political Views
I am a center-left social libertarian
Left: 2.15, Libertarian: 4.3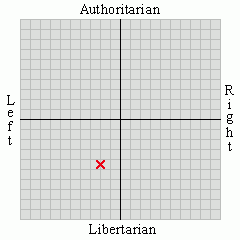 Political Spectrum Quiz

In my case, it tells me that I'm a "center-left social libertarian".  I don't know how accurate that is, but I'd describe myself as socially liberal and fiscally conservative.
For instance, I couldn't care less if gays want to get married, or run for office, or have kids.  None of my business.  That's not what government is for.
I am alarmed when my government blows the wad on questionable projects, clearly in the hopes of buying votes.  When you have a party that crows about their leader being trained as an economist, it would be nice if the guy acted like one, at least once in a while.
I am not in favour of the "American way", especially when it comes to health care.  The "me first, every man for himself" attitude can stay south of the border.  It won't work up here, the same way our health system would not work down there.  We are different species.
So, how do you stack up?